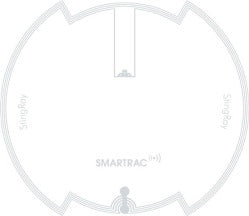 StingRay Full Disk Overlay - Item: RRF-000006
LibraryPrint by Dynamic Imaging Solutions Inc.
Regular price $0.00 Discount
HF StingRay round wet inlay, size 108mm in diameter, consists of 13.56 MHz high frequency (HF) transponders that are compliant with ISO 15693 and ISO 18000-3A global open standards. Best performing inlay for all disc types: CD, DVD and Blu-ray. The StingRay provides the maximum performance and robust readability for libraries and rental applications.
The StingRay Wet inlay specifications:
Frequency: 13.56MHz
Standards: ISO 15693, 18000-3 Mode 1
Memory: 1k bits
Antenna Size: ø105mm
Die Cut Size: ø108mm
IC: NXP ICode SLIX
Please Call For Pricing